Tickets and compilations¶
With the ticket system it is possible for you to transfer tasks to other users* in Privacysoft via e-mail. Even people who do not have user access can be invited for tasks in PRIVACYSOFT.
These receive an individual registration link with the ticket. The new system thus replaces the invitations to collaborate that were already possible in the old user interface.
For these tasks you can create compilations of different documents from different modules.
These compilations can then be sent with a ticket via e-mail to the desired addressees.
Creation of a new composition¶
To create a new compilation, please click on the [+ symbol].

Alternatively, compilations can also be created in a TOM questionnaire, or a processing via the [post icon].

Edit ticket¶
In the next step you can edit your ticket. Please refer to the table for information about the respective fields.

| Field | Description |
| --- | --- |
| Ticket name | Here you can enter the designation of the ticket. |
| Description | Here you can enter the description of the ticket and further instructions to the agents. |
| To | Here you can define addressees of the ticket. You can invite persons who already have user access as well as persons without access. Persons who are already created as contacts in Privacysoft can be selected directly, but e-mail addresses can also be entered directly in the addressee field. These persons will also receive a registration link for user creation with the ticket e-mail. |
| Priority | Here you can set the priority level. You can choose between low, medium, high, urgent and not specified. |
| Document status | Here you can archive or reactivate the ticket. |
| Task | Here you can further define the type of task with the labels For Information, Edit and Release. |
| Ticket status | Here you can set the ticket status. The options New, In Progress, 1st Escalation, 2nd Escalation, Resolved, and Retracted are available. |
| Compilation | Overview of the compilation |
To create a new compilation, click Create in the Compilation area.
Create compilation¶
Select the module from which you want to compile the documents. You can also compile documents from several modules.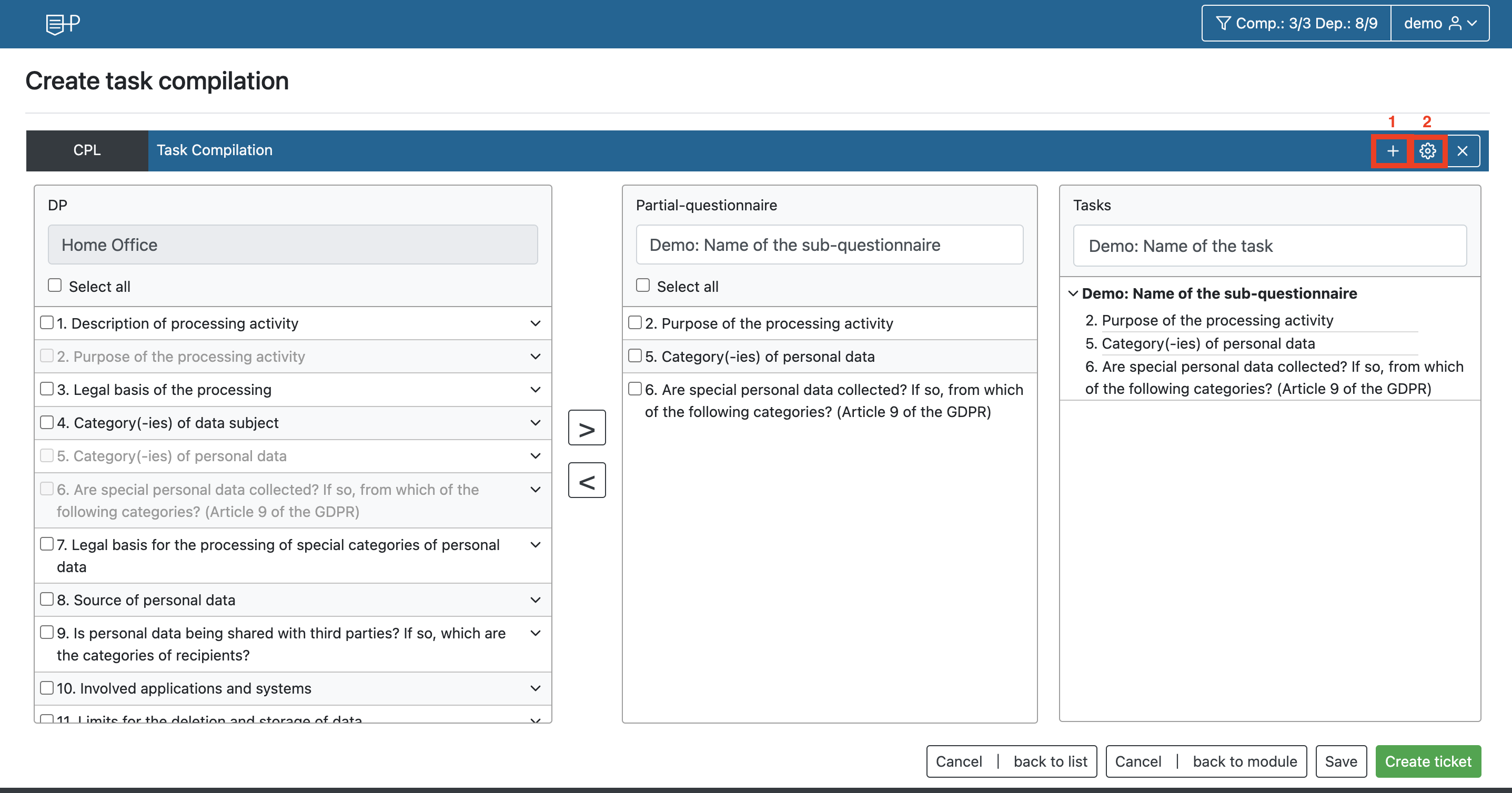 Now select a document in the selected module that you want to add to the compilation.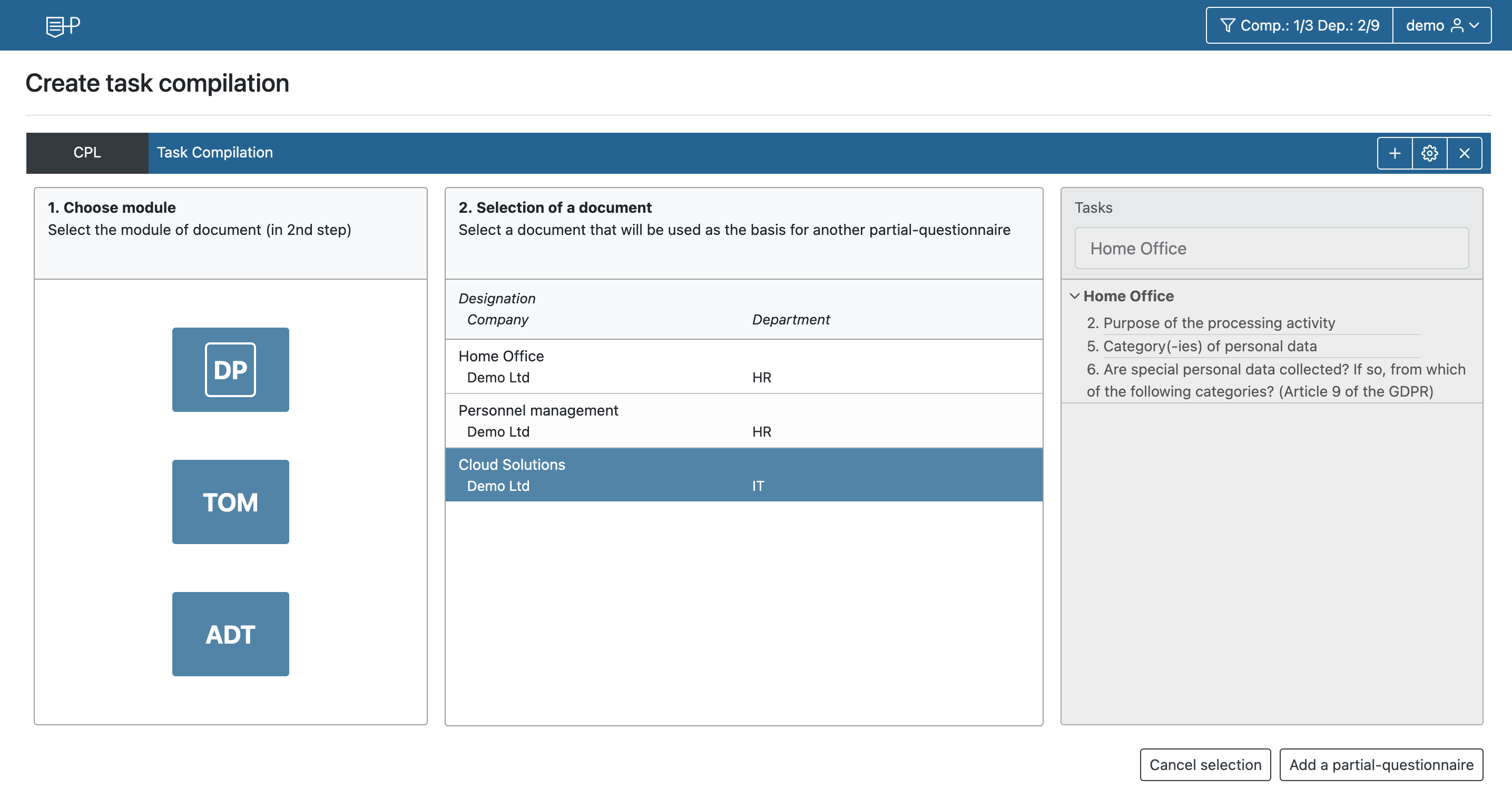 Now you can select the questions for compilation. You can drag and drop them or select them with the selection box and move them to the sub-questionnaire with the arrows >.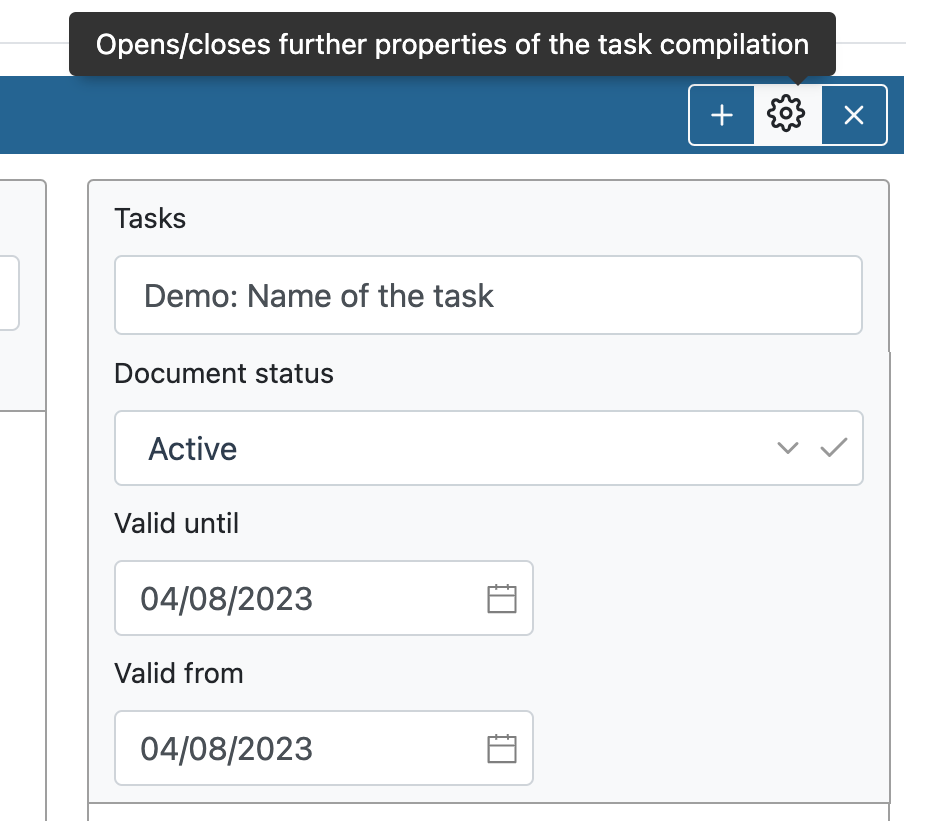 Creation of another partial questionnaire¶
You can add another sub-questionnaire to the compilation using the [+] button.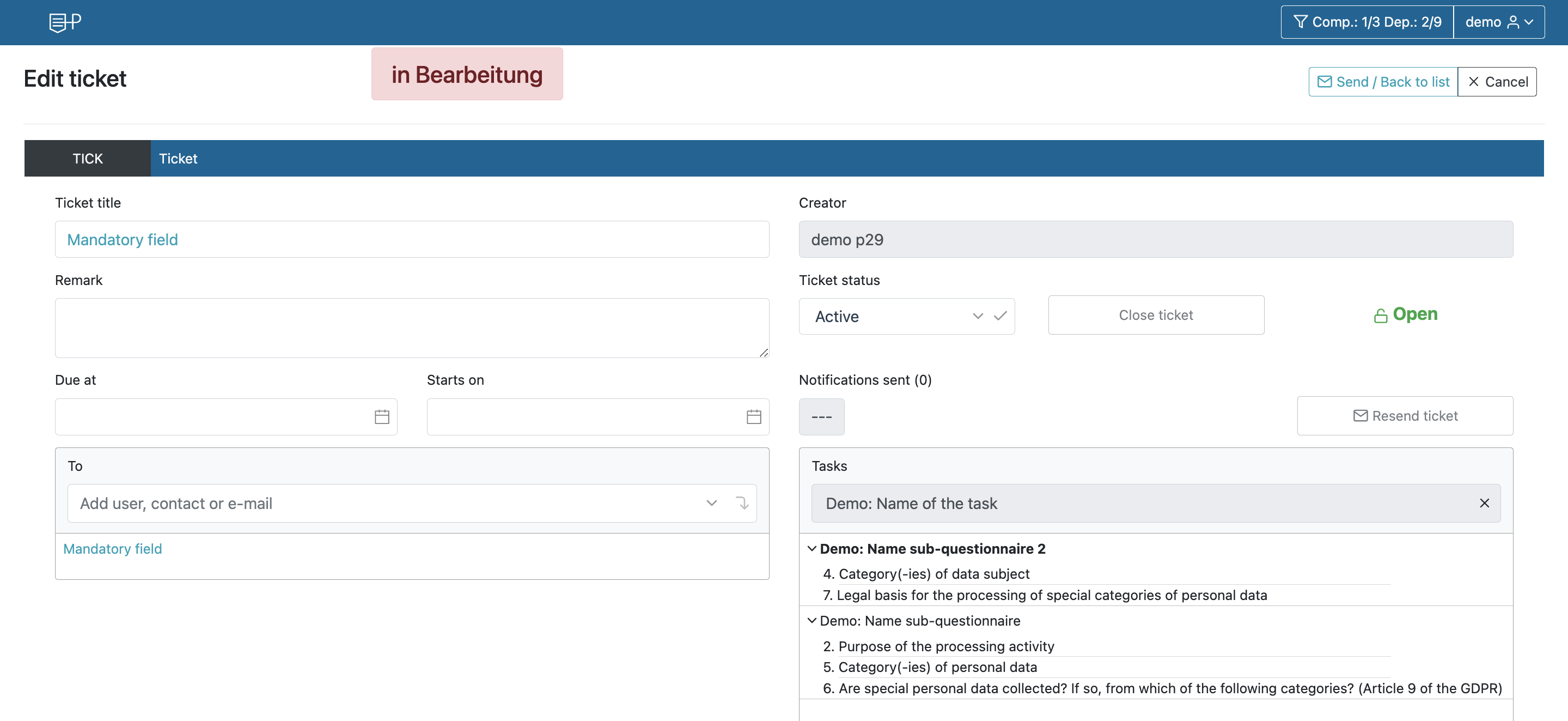 Proceed with the new partial questionnaire as in the first steps already shown.
Finalisation of the ticket¶
When you have finished your compilation, you can save it to edit it later or create a ticket directly with the compilation.
Once you have saved the ticket, you can send the ticket by e-mail. In the overview of the issued tasks, you can see the processing status of the compilation.
Invitations¶
You can check the status of your sent invitations via the menu and the item invitations.
Ticketing video¶