Audit¶
Attachment¶
If you want to create audits and inspections, switch to the [Audit module]. There you can start the creation with the [+] button.

In the creation wizard you can select the company, as well as an audit template, set the release status and determine the document status. You can also set a validity period.
Note
If a newly created audit module is not listed, you should first check the Filter settings. The department in which the audit module has just been created should be activated here.
Visibility - Findability¶
If you can't find your audit and you can't see it in the list, it is most likely due to the filter settings, for more details see our chapter [Filters].(../filter/index.md).
Evaluation of an ADT¶
To evaluate an ADT, carry out the following steps:
First click on the thumb symbol in the row of structural data.

There you select the desired overall status, you have the choice between.

Undefined

Checked OK

Review

NOT OK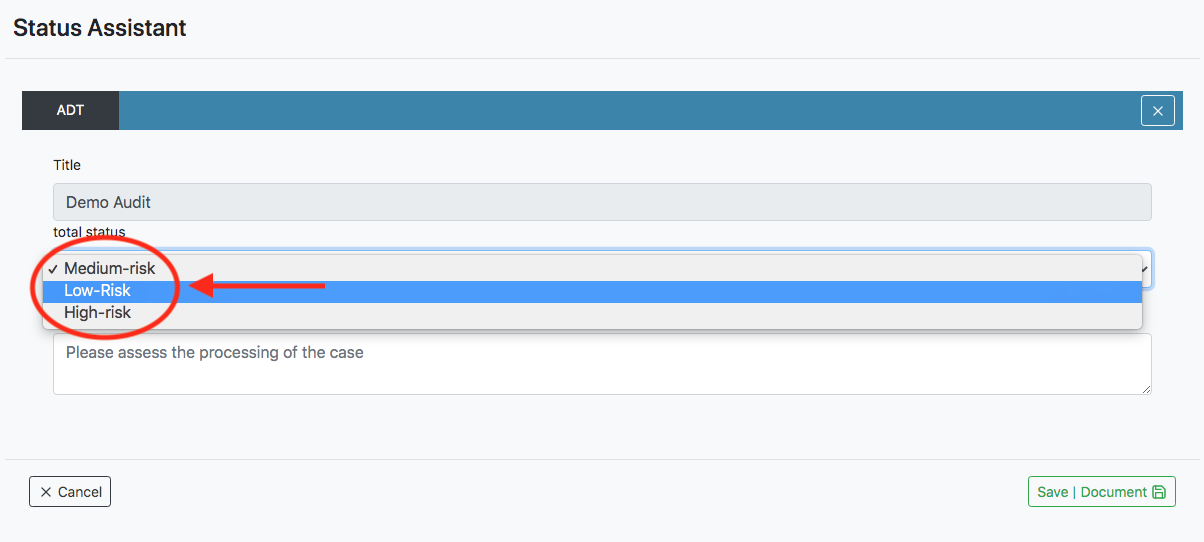 After finishing with [Save|Document], the document has the selected evaluation status.
Delete/archive ADT¶
Audit questionnaires cannot be deleted but archived. However, files uploaded to PRIVACYSOFT for audits or other documents can be permanently deleted, see Attachments.
Processings cannot be deleted but can be archived. To do this, go to the processing (pencil icon)

and set the document status there from "active" to "archived".

Reporting¶
A report on one or more audits can be generated using the Report Wizard.