ACC - Accountability¶
In the ACC module (Accountability), you can create the documentation requirements to be proven in accordance with Art. 5(1) of the GDPR. Literally, Art. 5 sentence 2 DSGVO states:
The controller is responsible for compliance with paragraph 1 and must be able to demonstrate compliance ("accountability").
This involves the topics of data subject rights, compliance with storage limitations, lawful processing of personal data, purpose limitation, data minimization, and integrity and confidentiality.
You can use pre-filled templates for this purpose and align them with your own processes, as well as add internal processes as documents.
Creation¶
If you want to create an ACC, switch to the ACC module and start the creation with the [+] button.

In the creation wizard select the corresponding company and the template to be created.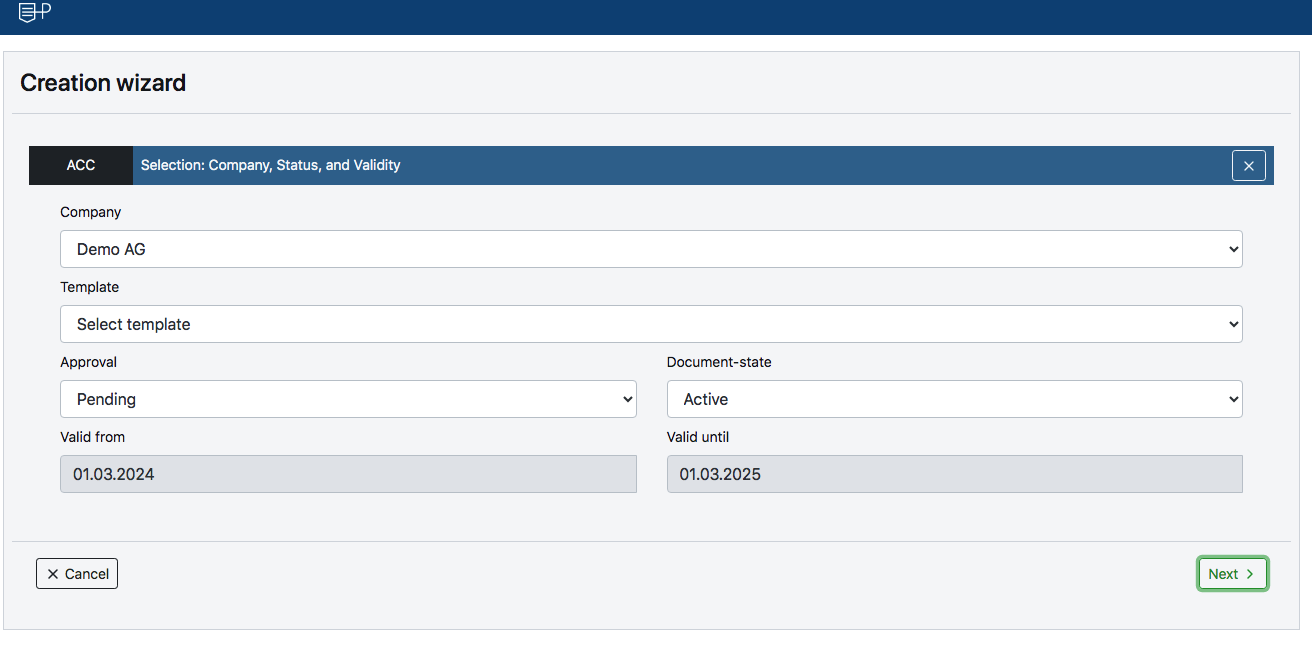 In the last step you can change the responsible department and the responsible contact, as well as the name of the proof requirement.

Note
If a just created ACC module is not listed you should first check the filter settings. Here the department where the ACC module has just been created should be activated.
Evaluation of an ACC¶
To evaluate an ACC, carry out the following steps:
First click on the thumb symbol in the row of structural data.

There you select the desired overall status, you have the choice between.

Undefined

Checked OK

Review

NOT OK

After finishing with [Save|Document], the document has the selected evaluation status.

Delete/archive ACC¶
Processings can not be deleted but archived. However, files that have been uploaded to ACCS or other documents in PRIVACYSOFT can be permanently deleted, more about this in Attachments.
For archiving, enter the edit mode via the three-dot menu in the list view or in the document itself via the (pencil icon):

and set the document status there from "active" to "archived".


Additional values¶
In the header of the detection duty you can link Keywords and Links to the detection duty. You can also get the overview of the file attachments, create a report, make the evaluation and revise the structural data of the proof obligation here.

Visibility - Findability¶
If you can't find your ACC and you can't see it in the list it's most likely due to the filter settings, for more details see our chapter Filter.
Edit ACCs - archive/delete¶
All entries you made when creating an ACC can be changed afterwards. To do this, select the pencil icon in the header bar and you will be guided through the editing wizard again. There you can also set the status of the ACC from active to archived, if you want to remove the ACC from the directory. A concrete deletion is not intended, in order to have the old status of the documentation always ready.
Reporting¶
A report about one, or more detection plans can be output via the report wizard.